NCERT Solutions For Class 12 Micro Economics: Students can download NCERT Solutions for Class 12 Micro Economics in PDF for free. We have provided solutions to all questions which are given in each chapter. The solutions for Class 12 Micro Economics are available based on the curriculum of the current academic year.
Our teachers have provided detailed solutions for all questions in each chapter of Micro Economics of Class 12. This will help you to understand the concepts and also solve all questions given at the end of each chapter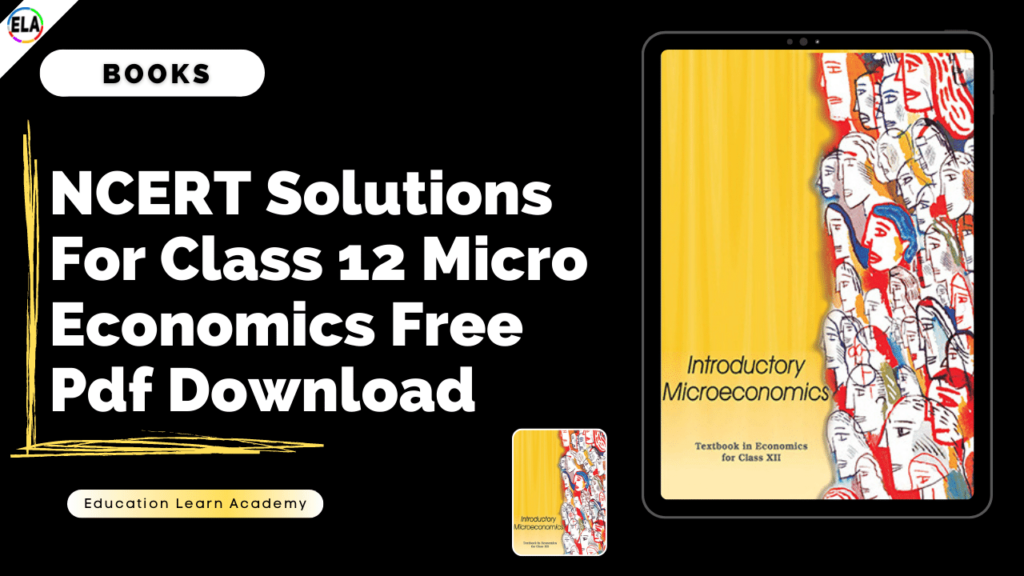 Class 12 Micro Economics NCERT Solutions Download PDF
Students can click on the subject wise links below. Refer to latest Micro Economics NCERT Solutions for Class 12 below
NCERT Books for Class 12 for Micro Economics have been recommended in lot of schools in India. In these books all concepts and topics have been explained in a very detailed and clear manner. As a result, students in Grade 12 should always refer to these textbooks. In other words, these CBSE NCERT Micro Economics ebooks are being suggested in schools and even in various other competitive exams.
In addition, at the end of each chapter in the Micro Economics Books for Class 12 lot of questions and exercises have been given. After that, students are always required to solve the questions. Above all, we have provided here the best and latest NCERT Solutions for Standard 12 for Micro Economics.
After that, all solutions have been designed based on the latest NCERT textbooks issued this year. Above all, our team of expert teachers for Class 12 has developed these solutions. We are providing all solutions to NCERT questions free. You can download all solutions in PDF format.
In conclusion, you should try to solve the Micro Economics Standard 12 NCERT solutions by yourself. Then later compare your solutions with what we have provided. In addition, this will help you to understand all mistakes which will help you in Class 12 examinations.
NCERT Solutions Class 12 Economics: Microeconomics – Free PDF Download
In order to have a better understanding of the subject, download NCERT Microeconomics Class 12 PDF; which will give you detailed solutions for all six chapters of this subject with help of diagrams and graphs. These solutions are based on the latest syllabus and practising them can help you score good marks in the exam. The content writers for Microeconomics Class 12 NCERT solutions are experts in these fields so you can rely on these solutions. 
Read Also:
NCERT Solutions For Class 12 Microeconomics Chapters
NCERT solutions Class 12 Microeconomics contains all the answers for the questions given inside the chapter as well as in the exercises. All the content and information given in the PDF of NCERT solutions Class 12 Microeconomics is authentic and explained most simply so that even an average student can understand it easily.
Here are more details.of the chapters in Microeconomics.
Chapter 1 – Introduction Chapter 2 – Theory of Consumer Behaviour Chapter 3 – Production and Cost Chapter 4 – The Theory Of The Firm Under Perfect Competition Chapter 5 Market Equilibrium Chapter 6 Non Competitive Markets
These key points are very useful for revision purposes as they cover all of the important topics in the chapter 3 business environment.
In order to understand these chapters in detail, download the free PDF of NCERT solutions Class 12 Microeconomics. This will help you to understand all the concepts and key points in an organized step-by-step manner which will help you to recall all the answers in the examination correctly.
NCERT Solutions For Class 12 Microeconomics Chapter-Wise Marks Weightage
Microeconomics is divided into four units –
Unit 1- Introduction (4 marks)Unit 2- Consumer Behaviour and Demand (13 marks)Unit 3- Producer Behaviour and Supply (13 marks)Unit 4- Forms of Market and Price Determination (10 marks)
Below are a Few Important Topics from Class 12 Microeconomics.
Introduction to Economics.
Consumer Equilibrium.
Production.
Demand.
The elasticity of demand.
Supply.
Cost.
Revenue.
Producer Equilibrium.
Perfect Competition.
Non-Competitive Market
Market Equilibrium with Simple Applications.
These key points are very useful for revision purposes as they cover all of the important topics in the subject. As graphical representations, numerical and diagrams are important aspects of Microeconomics. Therefore, along with subjective answers, a lot of graphs and numerical based questions are also given in NCERT solution PDF for a better understanding of the subject Microeconomics for Class 12.
Why are NCERT Solutions for Class 12 Important?
NCERT solutions focus on fundamentals to help students with basic concepts in a systematic manner.
The summaries of concepts and notes can be very useful for the last minute preparations.
NCERT solutions provide detailed step-by-step explanations and help students to solve doubts by giving them proper guidance throughout the process.
Questions keep repeating in the Board exams from this subject, for which preparing from these study materials makes students score better.
Practising a variety of questions from NCERT solutions and referring to sampled solved questions can help you to get a hang of twisted questions as well.
FAQ (Frequently Asked Questions)
Q1. What is the Law of Variable Proportions? 
Ans: The Law of Variable Proportions is also popularly known as the Law of Diminishing Returns.
According to this law, when one of the inputs involved in the production is changed while keeping the other inputs constant, there will be a point after which the output per unit of that particular input will start to decrease. 
This law is theorized under certain assumptions.
i) The technology should remain the same.
ii) Some inputs should be kept constant
iii) The possibility that the factors of production can be changed within a short period.
Q2. What are the Characteristics of a Perfectly Competitive Market? 
Ans: A perfectly competitive market exhibits the following characteristics.
i) Every category has many sellers and buyers.
ii) All companies have access to the market without any transport costs.
iii) Multiple choices for similar products.
iv) All the products are homogeneous. It means as every product has the same properties, a uniform price can be achieved.
v) There is no price control and the producers can set the prices as per the market demands and supply chains that are available.
vii) Sellers or buyers are well-informed and are free to make decisions based on their knowledge of the market.
How to download NCERT Solutions for Class 12 Micro Economics in PDF ?
We have provided here the latest Micro Economics solutions for class 12. In addition, you can download Grade 12 NCERT Solutions for all subjects from Education Learn Academy free.Can these solutions be downloaded in PDF format, do I need to pay for it?
Yes, we have provided all Class 12 Micro Economics Solutions of NCERT free for our students because that is easy for our Class 12 studentsI want PDF files of Class 12 NCERT solutions, How can I get them?
Above all, we have provided all solutions in PDF and can be downloaded easily. Therefore, you can download them all from our website