Class 10 Shobhit Nirwan (Science & SST) NCERT Booklet Free Pdf Download: Shobhit Nirwan Class 10 Social Studies, Science NCERT Booklet complete NCERT Summaries in a concise period of time as we all know that your class 10 examination is near & it's crucial to revise subjects to score excellent marks in your board examination.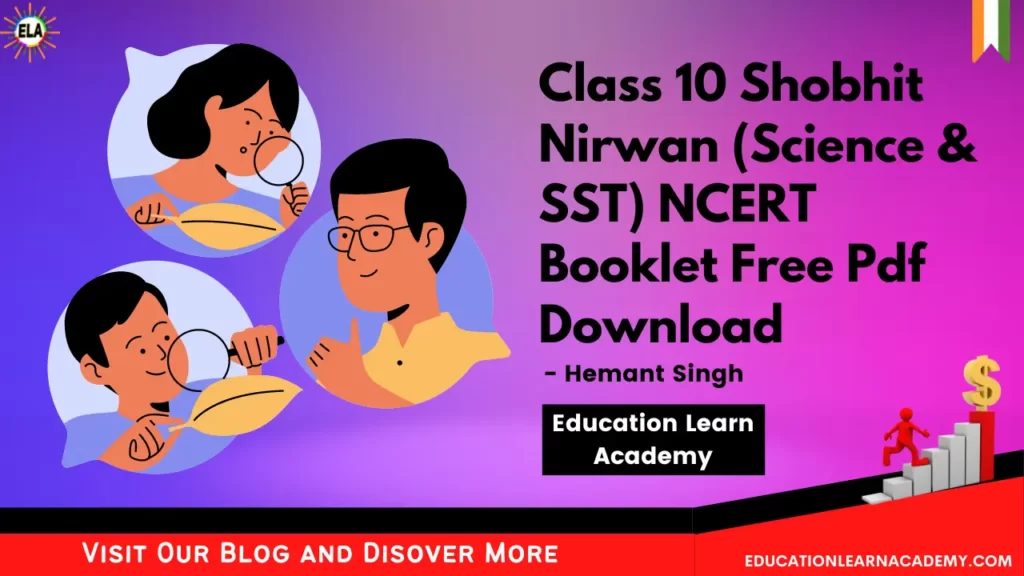 These booklets will help you to cover/revise your complete social studies, and science chapters very quickly.
This NCERT booklet must be used after reading the notes Not all points are highlighted, only those which are not covered in our notes are underlined.
You Might Like:
Features
1. Pyq's
2. Related questions with hints to answer
3. How to attempt question to score good (include one page in notes)
4. Diagram to understand easily.
5. Mind maps
6. Includes (rk singla , poonam Gandhi and subhash dey) concept and things in notes. And also other youtuber notes(rajat arora) This makes notes outstanding
HIGHLIGHTS
Important Points Highlighted
PYQs Marked
Quick Revision
NCERT Booklet for Quick Revision
Highlights:
Best Notes For Class 10th School Examination.
Based on NCERT
Complete NCERT Theory Summarized
Illustration Examples Included
Complete Commerce Notes.
Class 10 Shobhit Nirwan NCERT Booklet Pdf Download
Shobhit Nirwan Social Studies, Science NCERT Booklet for Boards examination
Social Science:
Science:
Activity booklet for Boards
The proper strategy to study the subject PCM and get full marks is depicted below
If you want a deep understanding of the concepts go through some reference books like the which I used schand lakhmir singh and Manjit Kaur science book series for class 10. Trust me dude..you won't be needing a teacher if you read those books thoroughly
Now after reading those books start reading your ncert. Once you go through the reference books, ncert would be a child's play for you
Note making is required from the lakhmir books
And now when you have completed the full syllabus just purchase Arihant class 10 science sample paper of the respective year.
Then revise all the chapter once and start practicing through the sample paper
Don't go for Oswal sample paper Arihant is best for boards point of view asni also chosen it for tow years that is in class 9 and tenth as well.
Then when you have completed the preparation. Just go through the previous year 2 o 3 years back papers
NCERT is a must.. to read never ignore ncert never
Final thoughts:
We hope that you are enjoying our website's free premium study material keep visiting keep sliming
comment your queries in the comment section below we will try to solve your queries as soon as possible thankyou!