Class 10 Padhai ak Mazza Notes Free Pdf: Here are the Padhai ak Mazza Notes Pdf Class 10 for your upcoming board exams. "Padhai ak Mazza" is a Study Youtube Channel Which provide notes and explanations to students, helping them to score better in their exams.
Class 10 Padhai ak Mazza Notes: provides the best Chapter Wise Social Science notes Class 10 NCERT Quick Revision Notes and Key Points in English for students to refer and score well in the class 10 CBSE Board exams.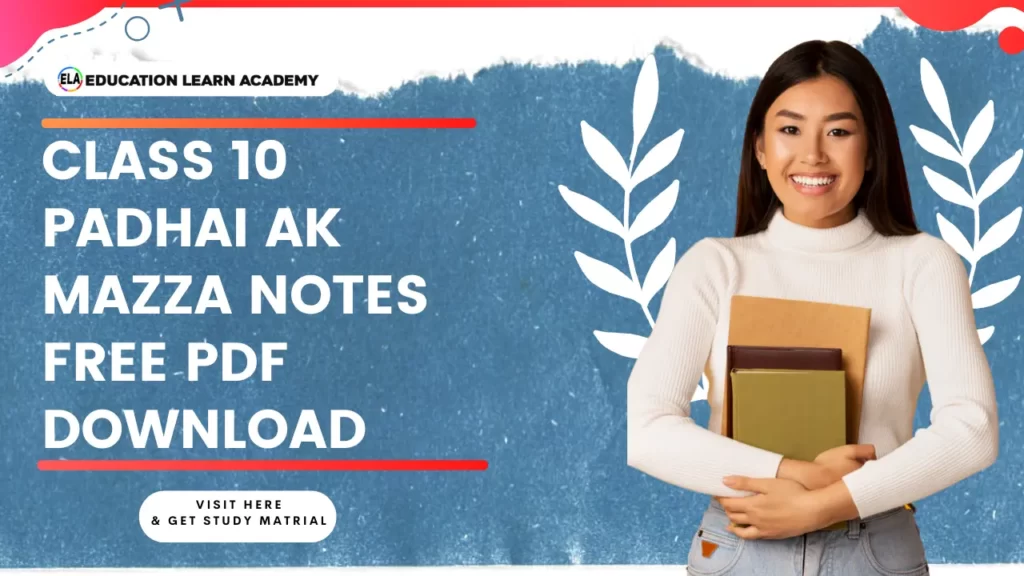 CBSE Class 10 Social Science Notes carry an overview of the main points of every chapter and concepts in the NCERT Books.
The topics covered are Class 10 Economics , History , Geography , Civics Book Notes In English. In the table mentioned below, we have provided CBSE Class 10 Social Science notes of all sub-subjects History, Geography, Political Science and Economics. Go through these notes and pass your exam with flying colours.
Padhai ak Mazza youtube chennal background
I Am (Hasan Abbas Zaidi)
-9.8 CGPA in CBSE class 10th
-90%in Class 12Boards
Future Aspirations
(UPSC IAS EXAM)
"Now what is available in this channel"
-NOTES
-Lectures
-Motivation
Class 10 Padhai ak Mazza Science Handwritten Notes
Class 10 Padhai ak Mazza SST Handwritten Notes
Class 10 Padhai ak Mazza English Notes
Footprints Complete Notes
A-Question-of-Trust-Best-handwritten-notes
Bholi-Best-Handwritten-Notes
Footprints-Without-Feet-Best-handwritten-notes
making-of-a-Scientist-Padhai-Ak-Mazza-Best-handwritten-notes
Midnight-Visitor-Padhai-Ak-Mazza-Best-handwritten-notes
The-Book-That-Saved-the-Earth-Best-handwritten-notes
The-necklace-Best-handwritten-notes
The-Thief_s-Story-Best-handwritten-notes
Trumph-of-surgery-Best-handwritten-note s
First Flight Complete Notes
Poem
Fog-Best-Notes-For-2023-Board-Examination
Amanda-Best-Notes-For-2023-board-Examination
Fire-And-ice-Best-Notes-For-2023-board-Examination
For-Anne-Gregory-Best-Notes-For-2023-Board-Examination
How-To-Tell-Wild-Animals-Best-Notes-For-2023-Board-Examination
The-Ball-Poem-Best-Notes-For-2023-Board-Examination
The-Dust-Of-Snow-Best-Notes-2023
The-Tale-Of-Custard-The-Dragon-Best-Notes-For-2023-Board-Examination
The-Trees-Best-Notes-For-2023-Board-Examination
Tiger-In-A-Zoo-Best-Notes-For-2023-Board-Examination
Prose
A-Letter-To-God-Best-Notes-For-2023-Board-Examination-
From-the-Diary-of-Anne-Frank-Best-Notes-For-2023-Board-Examination-
Glimpses-Of-India-Best-Notes-For-2023-Board-Examination
Madam-Rises-The-bus-Best-Notes-For-2023-Board-Examination
Mijbil-The-Otter-Best-Notes-For-2023-Board-Exams
Nelson-Mandela-Long-Walk-To-Freedom-Best-Notes-For-2023-Board-Examination-
Proposal-Best-Handwritten-Notes-For-2023-Board-Examination
Sermon-At-Banaras-Best-Notes-For-2023-Board-Examination
Two-Stories-About-Flying-Best-Handwritten-Notes-2023-BOARD-EXAMINATION-