How To Become A Writer In India Full Details: Being an author or writer is not an easy task. You need to practice writing articles every day to become a good writer. Find the best creative writing courses in India from this article.
Candidates can have a chance to work from home also by making writing a career.
There are different types of writers in India they are content writers, article writers, technical writers, copywriters, scriptwriters, novelists, etc. Check out the eligibilities given below and know whether you are suitable for this job or not.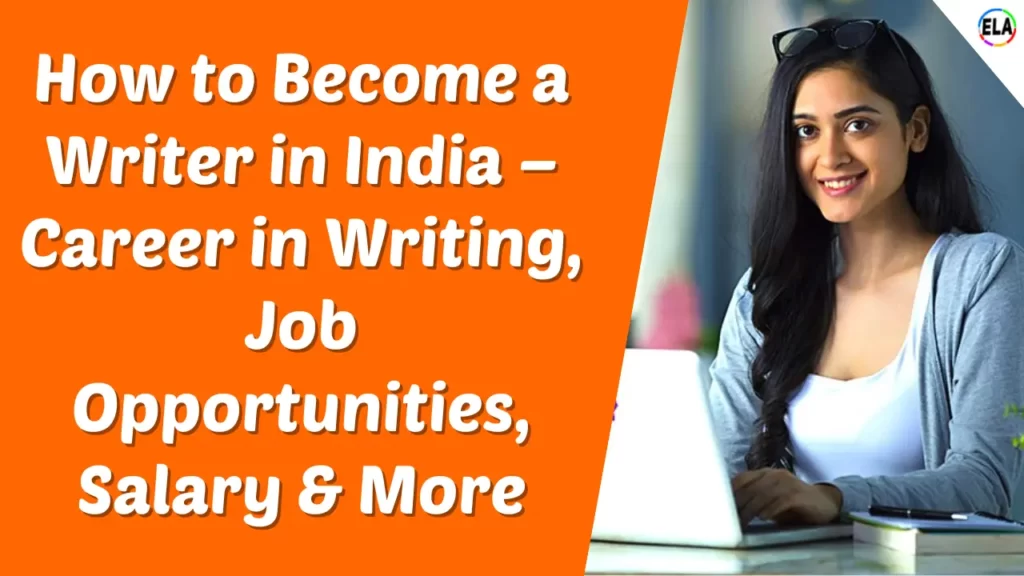 MORE THOUGHT ABOUT MINE

Becoming a writer is the easiest thing to do. You only need to write. Simple. However, what matters more is that you should be able to write "well".

You may write a book in a month or two, or even sooner than this and subsequently, you would easily manage to rope in a plenty of publishers to take your work to its potential readers. But this would be, believe me, a perfect recipe of disaster.

One should write only when there is an interesting story to share, interesting enough for the hundreds of thousands of people to get excited about it. If the story's theme is not fascinating, at least the narration ought to be gripping and impressive. This process of conjuring up a story, giving it a blueprint, followed by giving a concrete shape to it and finally, critically reading the entire text yourself in a bid to improvise is arduous and painful. But this is the only way to rope in reputable publishers who can market your book well and earn you the respect among masses or probably in the writers' fraternity at least.

One must remember that you read atleast 10 good books before you write your first book. And when you try your hand at writing, you must remember to elevate the level of your writing to be able to bring it closer to any of the 10 good (popular or award-winning or classic or all of these) books that you recently finished during your preparation of becoming a writer.
Read Also: Complaint Letter for Excess Electricity Bill – 2 Examples
How to Become a Writer in India – Career in Writing, Job Opportunities, Course, Skills Required, Salary & More

Full Information By Education Learn Academy
Eligibility to become a writer in India
---
If you love to become a writer then you have to meet the eligibility criteria provided by the organization. Remember that you need to have an English graduation degree. If you are good at writing articles then you will be eligible to become a writer. Check out the eligibilities given below and know whether you are suitable for this job or not.
It is necessary that the candidates must have completed +2 with an aggregate of 65% marks from the state or central board of education.
You should have completed a Bachelor of Journalism and Mass Communication from any recognized institution.
Must have wonderful communication skills.
The best part of writing is that you can become a writer and earn a decent income from anywhere in the world, and the rules are more or less the same across the globe. The most important rule is that your writing skills must be outstanding. Your ability to articulate your thoughts through words and create magic for readers is the primary, and perhaps, the only rule that a writer needs to follow.
Write, write, and write as much as you can. The more you write, the better you get at it. Create a nice, plush portfolio of your writing samples and keep them ready to send to clients. Create a writer profile for yourself on various freelance websites such as Upwork, Writerbay, FlexJobs, and more. Apply for the various jobs that come up on your profile. Just be patient and keep making efforts.
And in the meantime, don't stop writing. You can join various writing groups on social media platforms, participate in the contests, build yourself a "writing" brand, and sooner than later, your efforts will be rewarded. When you are ready, go ahead and publish your book using the multiple self-publishing options.
Skills Required to Become a writer
Candidates must have some special skills to become a writer. They are as follows,
Communication skills
Creative writing skills
Knowledge on language
Determination
Excellent verbal communication skills
Knowledge of media production
Thinking ability and creative ideas
Read Also: KC Sinha Class 10 Maths Solution Free Pdf Download
Tools Required to become a writer
To become a good writer one must have to know the essential things that are required to write the content. Knowledge of tools that are used to detect grammatical errors, plagiarism. There are specific tools to use to become a writer.
When you are writing a paragraph you will observe spelling mistakes and grammar mistakes. To avoid those mistakes you can use Grammarly tools to detect grammatical errors and spelling mistakes. With the help of this tool, the quality of the content will be improved and easy to understand for the users.
There is another tool called plagiarism tool that is used to check whether the content is unique or copied. You can use this tool after writing the content, test your article, and check uniqueness.
Some of the articles are written in the WordPress tool that has different modes of writing by using the text and special characters.
You can become a writer anywhere in the world by following these steps.
Decide what you want to write. Fiction or nonfiction
Think what genre you want to write about like Drama, Mystery
Start thinking on a basic plot and it should be something on which you can write 200-300 pages minimum.
When decided on what you want to write just take start writing.
After completing your book(editing included) then get the copyright of it.
Now start sending queries to agents and if they like your idea sign the contract
Now wait for your book to be published.
Read Also: NCERT Solutions for Class 11 Business Studies PDF Download
Tips to become a writer
Follow the below-given tips to become a good writer.
Make a habit of reading books every day that helps to improve your language.
Watch English movies so that you can know how to frame a sentence.
Try to write small articles daily in different journals.
Pros & Cons of Becoming a Writer
Pros:
Flexible working hours
Cons:
Salaries will be less in the initial stages
Sometimes it is hard to meet the deadlines
Top Colleges that offer writing courses in India
In this section, we are going to see the top institutions that offer writing courses in India. You have an option to join the courses either online or offline.
British Council of India – Delhi, and Kolkata
Indira Gandhi National Open University
Symbiosis Center for Distance Learning
Xavier Institute of Communications – Mumbai
TBS, The Brand Salon, Mumbai
Leads Academy
Read Also;
What Courses to take to become a Writer?
Oxford University
Masterclass
Commonwealth Education Trust
University of British Columbia
Wesleyan University
University of Michigan
Career in Writing in India
There are different types of writers in India they are content writers, article writers, technical writers, copywriters, scriptwriters, novelists, etc.
Content writers: There are a lot of responsibilities for a content writer. He/she will write articles on different concepts from content writing to blog writing.
Technical writers: A technical writer is the one who will explain the product or item in a simple language that reaches the common person.
Author: An author is responsible for writing the books. They write novels, fictional and non-fictional books for adults and children.
Copywriters: They write advertising letters, newsletters, catalogs, etc.
Scriptwriters: The role of the scriptwriter is to write dialogs, scenes for movies, shows, etc.
Lyricist: A lyricist is one who writes songs for movies and other entertainment zones.
Article writers: They are responsible for writing content on a particular topic like education, health, movie, sports, food, etc.
Read Also: Total Geography Class 10 ICSE Solutions Free PDF Download
Job Opportunities for writers
After completing the required courses candidates can start their careers as a writer. There are a lot of job opportunities for writers in the market as editors, content writers, freelancers, websites, media, movies, books publishing agencies, advertising agencies, technical writing, e-commerce site, and so on.
Salary of Writer in India
The salaries for writers will be based on the job role. The initial salary for a writer will be around 1.5 lakhs per annum and the salary of an experienced candidate is 4 lakhs per annum. The list of the salary as per the job profile are listed below.
Technical writer: Rs. 1,50,000 to 3,50,000
Content writer: Rs. 1,50,000 to 3,50,000
Editors: Rs. 1,50,000 to 4,00,000
Advertsing Agencies: Rs. 1,50,000 to 4,00,000
Study Material to become a writer
In this section, we are providing a list of the reference books to read to become a writer in India.
Stein on Writing – Sol Stein
Zen in the Art of Writing – Ray Bradbury
Everybody Writes: Your Go-To Guide to Creating Ridiculously Good Content – Ann Handley
1001 Ways to Write Great Fiction, Get Published And Earn Your Audience – Chuck Wendig
Read Also: Narendra Awasthi Solutions For Physical Chemistry PDF Download
FAQs on How to become a writer
How much does a writer earn in India?
An author or writer earns Rs. 15,000 to Rs. 25,000 per month.
How can I start a writing career in India?
To start your career as a writer you should have completed a Bachelor of Journalism and Mass Communication (BJMC) from any recognized university.
How can I become a writer after 12th?
Students who have finished their +2 can go for the BJMC undergraduate course and pass with an aggregate of 50% marks.
How can one become a published writer in India?
Write and self-publish on Amazon in the next 24 hours.
Or write, write, write and keep contacting the publishers.
The option 1 will give instant results. While the option 2 will make you come back to Quora and ask 100 other questions on rejection from native publishing industry.
Source: personal experience as a published writer. Amazon search will lead to my author page.
P.S: I am working on my upcoming book on Writing in the Digital Era. It is available as a snippet on the bio to this answer. It talks about processed approach to writing
Conclusion
You can become the best writer only when you practice reading and writing the articles. Hope the information that is gathered in this article regarding the topic "How to become a writer in India" is beneficial for you all. Stay in touch with our ncertbooks.guru to get the latest updates on all types of jobs.