HP Board Books PDF
HP Board Books HPBOSE – Himachal Pradesh Board of School Education, was founded in the year 1969 with its responsibilities of preparing the syllabus, courses of instructions, question papers and conducting examinations based on courses listed. There are more than 8000 schools affiliated with the HP Board. The Board also publishes textbooks for class 1st to 12th for both English and Hindi medium schools.
Every student can get he/she latest books from their responsible school or download from NCERT official website, here we have provided direct link to download HP Board Primary School level Elementary education books from NCERT portal.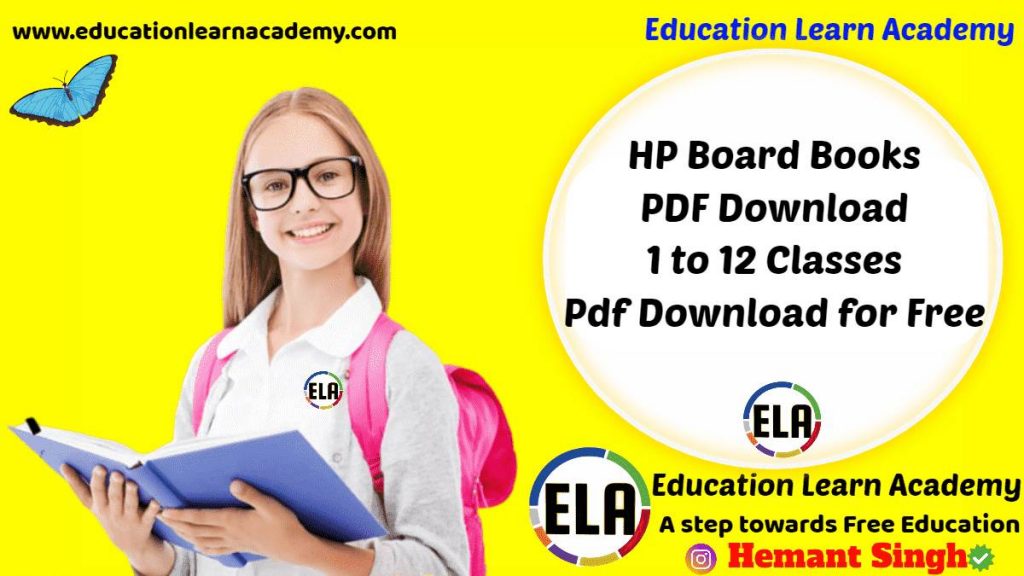 | | |
| --- | --- |
| HP Board Official Name | HPBOSE |
| HPBOSE Full Form | Himachal Pradesh Board Of School Education |
| Founded | 1969 |
| HPBOSE Role | Conducting Class 10 and Class 12 Exams |
| Headquarters | Dharamshala, Himachal Pradesh, India |
| Official Website | hpbose.org |
HP Board Books Pdf Download
Himachal Pradesh State Board of School Education is provided the state elementary level primary school textbooks provided by NCERT in subject wise for all government and private school Hindi Medium, English Medium, Urdu Medium Class 1, 2, 3, 4 and 5 standard schools across the state.
HP Board Books Free Pdf Download
Every year the School Education Department of Himachal Pradesh is provided all subject latest syllabus textbooks to the state students under free textbooks scheme, and this year also provide latest new syllabus books to all eligible students published by SCERT and NCERT.
We at Education Learn Academy aims to convey students with all the necessary support for performing best in their examinations. The HP State Board textbooks are available in pdf format, students can either download or prepare online by visiting our website.
Click on the below-given links to download the HP State Board Books Class wise for both Maths and Science.
Stay tuned with Education Learn Academy to get more information, latest notifications, and updates on the syllabus, exam dates, books results, hall tickets, important question, sample papers, and other study materials.
List of Subjects for HP Board Class 1st to 5th Grade Syllabus 2020
Searches related to HP Board Books PDF
Frequently Asked Questions on Himachal Pradesh Board
Who is the chairman of HP board?
Dr. Harish Gajju (HAS) is the current Secretary of the HPBOSE appointment by the Government of Himachal Pradesh. Sh. Rajiv Shankar (IAS) is the current Chairman of the board.
How many schools are there in Himachal Pradesh?
Himachal Pradesh is home to many educational institutions offering a wide variety of courses. There are five universities, two medical colleges, four dental colleges and two engineering colleges in the state. There are over 10,000 primary schools, 1,000 secondary schools and more than 1,300 high schools in Himachal.
When was Himachal Pradesh Board of School Education Established?
The Himachal Pradesh Board of School Education, Dharamshala came into existence in 1969 as per Himachal Pradesh Act No. 14 of 1968 with its head-quarter at Shimla later shifted to Dharamshala in January 1983.
What is the full form of HPBOSE?
HPBOSE is the acronym for the Himachal Pradesh Board of School Education.