Allen Kota Nurture Complete Test Series: When you're preparing up for a rigorous exam like the Joint Entrance Examination (JEE), it's not just about hitting the books hard – it's about studying intelligently and keeping motivated. One of the most effective ways to prepare for JEE 2024 is by enrolling in a test series program, and among the options out there, the Allen Kota Nurture Complete Test Series for JEE 2024 truly emerges as the top choice for aspiring students.
In this pleasant guide, we'll walk you through what this program has to offer, provide you with a convenient information table, and answer some common concerns to help you make a confident decision about your JEE 2024 preparation.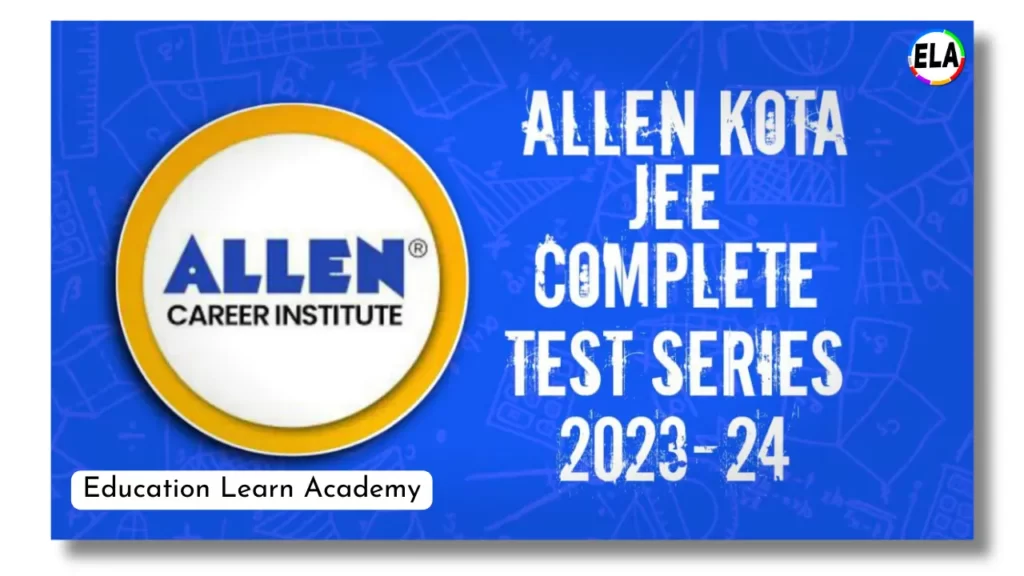 Allen provides a Nurture Test Series (NTS) designed for JEE (Main + Advanced) aspirants. This comprehensive test series comprises a total of 19 online assessments, which include 10 unit tests, 4 review tests, and 5 major tests. It's worth noting that the difficulty level of these tests is intentionally set higher than that of the actual exam, helping you prepare for any challenge you might face on the big day.
The NTS package is available at a cost of 11,800. However, if you opt for the NTS along with the Nurture Online Test Series, the combined cost is 15,500.
Getting started with the test series is simple:
Visit the Allen website.
Log in using your mobile number or email.
Navigate to the "Distance Learning" section in the menu.
The tests corresponding to your chosen package will be readily available on your computer screen for you to begin your preparation."
Quick Info
Here's a brief overview of the Allen Kota Nurture Complete Test Series for JEE 2024:
| Feature | Details |
| --- | --- |
| Target Exam | JEE 2024 |
| Syllabus Coverage | Comprehensive |
| Test Frequency | Regular |
| Performance Analysis | In-depth insights on strengths and areas for improvement |
| All India Rank | Provided after each test |
| Faculty Support | Access to experienced instructors |
| Flexibility | Choose your own test-taking schedule |
| Mobile App | Study on the go with the app |
| Personalized Study Plan | A plan tailored for effective preparation |
Total Tests/Papers
First Year : Total 25 Papers (Approx.) which Includes 10 Unit , 4 Review & Series of Major Full Syllabus.
Second Year : Total 38 Papers (Approx) which Includes 10 Unit , 4 Review, Series of Major Full Syllabus & All India Open Tests
About This Course
Preparation is never truly complete until it's put to the test. That's why, at ALLEN Digital, we proudly present our Online Test Series program, offering you a valuable opportunity to measure your skills against peers from all corners of the nation. Crafted by ALLEN's highly qualified and experienced faculty team, this program empowers you to precisely identify your strengths and pinpoint areas for improvement. When you tackle the question papers, you're not just enhancing your accuracy, speed, confidence, and question-evaluation techniques; you're also immersing yourself in a JEE (Main) exam simulation.
To ensure thorough preparation, we offer a wide array of partial and full syllabus tests. Moreover, the inclusion of a detailed performance analysis report card after each test is an added advantage of this test series, providing you with invaluable insights.
Disclaimer: Students enrolled in JEE (Main) Nurture 2025 (Phase II) Online test series do not need to separately purchase the JEE (Main) Nurture 2025 (Phase I) Online test series.
The Allen Kota Nurture Complete Test Series: All You Need to Know
What's in Store
The Allen Kota Nurture Complete Test Series is a carefully crafted program designed with JEE 2024 aspirants in mind. It's a part of the highly respected Allen Kota coaching institute's array of study resources. This test series is tailor-made to help students fine-tune their preparation and excel in the JEE with flying colors.
Key Features of the Test Series
Key Features of the Test Series Here are some remarkable aspects that make the Allen Kota Nurture Complete Test Series an enticing choice:
Comprehensive Syllabus Coverage: This test series guarantees that you delve into every nook and cranny of the JEE syllabus, ensuring you don't miss any crucial topics.
Regular Examination Simulation: Consistent testing replicates the actual exam conditions, aiding in your seamless adaptation to the JEE examination environment.
Thorough Performance Feedback: Following each test, you'll receive a comprehensive performance report, not only highlighting your strengths but also pinpointing areas where you can enhance your skills.
All India Rank (AIR): Gain insights into your national performance by securing your All India Rank, allowing you to assess your competitive standing.
Guidance from Expert Faculty: Harness the wealth of knowledge and guidance offered by Allen Kota's seasoned educators, who are always on hand to address your inquiries and provide solutions.
Flexibility in Scheduling: Enjoy the convenience of scheduling tests at your own pace, making it simpler to balance your regular studies.
Mobile App Accessibility: Access the test series and study materials effortlessly while on the move, thanks to the Allen Kota smartphone app.
Tailored Study Plan: Receive a personalized study plan crafted exclusively for you, streamlining your preparation for maximum efficiency.
Target
JEE (MAIN + ADVANCED) 2025
Allen Kota Nurture Complete Test Series for JEE Free Pdf Download
Conclusion:
In conclusion, our ALLEN Digital Online Test Series for JEE (Main + Advanced) 2025 is a powerful tool to boost your exam readiness. Designed by our expert faculty, it offers you the chance to assess your skills against peers nationwide. By attempting these tests, you'll sharpen your accuracy, speed, and confidence, gaining valuable experience for the actual JEE (Main) exam.
The program covers both partial and full syllabus tests, providing a comprehensive assessment of your strengths and areas for improvement. Detailed performance analysis reports accompany each test, guiding your study strategy.
For your convenience, we've answered common questions in our FAQs section, ensuring clarity about the program.
To help you stay informed, we're offering a FREE PDF DOWNLOAD of this course overview. Simply click the link below to access it:
Your path to JEE success starts with preparation. With ALLEN Digital's Online Test Series, you're equipped to excel. Best of luck with your studies and exam preparations!